Agreeing For A Miracle Camper
I sold my plumbing shop property in 2001 and after I paid off the note I had $13,000 extra above payoff. We decided to purchase an Overhead Pickup Camper and we also wanted the camper to have a slide-out. My wife wanted a new camper and I wanted a used one with no payments. We asked the Pastor of our church to agree with us that we would find a camper just like we wanted for $13,000. We prayed and all agreed together according to Matthew 18:19 where Jesus said that if two of you agree on earth concerning anything that they ask, it will be done for them by My Father. After the prayer of agreement we began to look for this miracle camper.
Looking for the Miracle
There was a local RV show so we decided to go there and ask the RV Dealers about the type of camper we wanted. One of the dealers told us he had a camper on his lot right now exactly like we described. He said it is not for sale though it belongs to a customer and it is there for repair. It was only an hour drive to see this camper so we went to look at it. The salesman at the RV dealership told us he would let us look, but this camper had a problem and the Manufacturer was bringing a replacement camper. I asked what the problem was and he told me the slide-out was not square when the camper was manufactured, and it did not line up correctly when it would slide in. I asked if it leaked water or was a problem. He told me not a problem it only had a slight offset look to it. I told him I would like to make an offer to buy this one from the Manufacturer. He said if I didn't mind the look of the slide out he would make then offer for me. I told h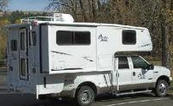 im I would like to offer $13,000. He said this is a $26,000 new camper and there is no way they will let you have it for $13,000. I told him my pastor, my wife and myself had all agreed in prayer for a miracle camper for $13,000 and if this was my camper I would get it for that price. He said he would make the offer and told me to wait there and he would be right back. He came back and told me that he had told them I wanted to offer $13,000 but would probably give $16,000. I told him to please go back and tell them if I am to have this camper it has to be $13,000 for that is what we prayed to God for this miracle and that is the amount of cash we have. He went back and told them that and said he would call us and let us know.
Receiving the Miracle in Double Portion
It was the next day we received a call from the dealer. He told us the manufacturer decided to take us up on the offer. We were ecstatic and went straight to the dealership and purchased the camper. My wife had wanted a new camper and I wanted one for $13,000 and no payments. We had agreed specifically for that and we both got what we wanted and agreed on. But the miracle does not end here. We used the camper several times and it turned out the slide-out was not off square from the manufacturer. The frame inside of the camper had broken welds and was pulling apart. So we called the manufacturer and told them we were told the slide-out was out of square, but this was not the case, the frame was breaking apart. The manufacturer said since this was not the problem they had told me they would fix it. So they came and picked up the camper and took it for repairs. When we received it back it truly was a new camper with no defects. We used that camper for 5 years and then sold it for what we paid for it. What a miracle blessing from God.