Your Sins Are Forgiven
Romans 4:7-8
7"Blessed are those whose lawless deeds are forgiven, and whose sins are covered; 8blessed is the man to whom the Lord shall not impute sin."
Some people think that if they were more "right" with God, then He would hear their prayers. For example, they sometimes believe that if they had not quarreled with their wives or had those bad thoughts earlier in the day, then God would answer their prayers.
God is not like that. He wants you to know beyond any doubt that you can always come to His throne of grace with boldness and have every confidence that you will receive His mercy and grace. (Hebrews 4:16) You see, because of Jesus' finished work on the cross, you are already right with God. You don't need to do anything to make yourself more right with God.
In fact, by faith in Jesus, you have received the righteousness of God Himself! (2 Corinthians 5:21) And no matter how many mistakes you make, you will never lose that righteousness because in the first place, God gave it to you apart from your works. (Romans 4:5-6) In other words, God did not impute righteousness to you because you were good, but because you believed in Jesus.
Sins — Past, Present and Future — Are Forgiven
Beca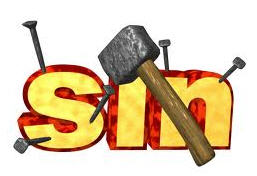 use of what Jesus has done for you at the cross, all your sins — past, present and future — are forgiven. God will by no means ever remember your sins or count them against you! (Hebrews 8:12, Hebrews 10:17)
My friend, because Jesus has been punished for your sins, today, God is not counting your sins against you. This means that your sins won't stop Him from hearing and responding to your prayers. So you can always run into His presence knowing that you can boldly stand in and enjoy His presence and His love.
Relationship With God Restored Knowing Sins Are Gone
God did not forgive all of your sins to give you a license to sin.(Galatians 2:17) He forgave all your sins to build a relationship of Love with you. (Luke 7:47) When you know this truth, it is going to set you free in your relationship with God. You can talk to Him without fear or any sense of condemnation. You can practice His presence and trust that He always hears you. Should something happen at home or at work, you don't always have to call for your church leaders — you pray and God hears you! Your sins are forgiven and your relationship with God is restored.